We had an interesting issue with Adobe Reader, Internet Explorer 10 and Windows 7 64bit today – when opening a PDF from an untrusted website on the Internet, IE would display a grey/black 'broken page' icon in the top right with an 'infobar' message at the bottom:
The webpage wants to run 'AcroPDF.dll'. If you trust this site, you can disable Enhanced Protection Mode for this site to run the control. [Disable] [Always Ignore]
Users are not given permission to add or remove websites from the Trusted Zone in IE (can just imagine them adding some dodgy keygen websites…), so both the buttons on this message didn't do anything.
The solution to this problem proved to be rather simple – force IE10 to run processes in 32bit mode (otherwise known as 'not EPM' – Enhanced Protection Mode). I went about it by modifying our existing IE10 group policy preference to turn off EPM.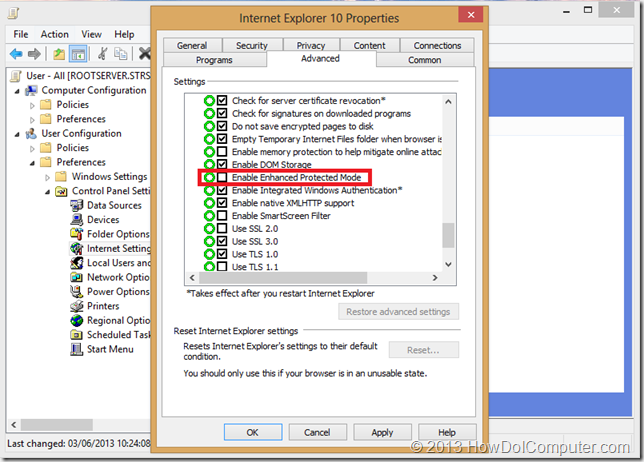 Gpupdate /force on the affected users and restart IE – bingo PDFs!
Bonus tip: when modifying Internet Settings in GPP you'll see green or red circles and lines. These are the preferences that are applied / ignord. Green means that the setting is applied, red not.
You can turn them on/off using the following keys:
F5 – Apply all settings on page
F6 – Apply current setting
F7 – Ignore current setting
F8 – Ignore all settings on page